A bit over the top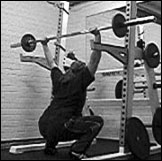 I'm going to swallow my pride and admit that I got no more than 4 @ 62.5 kg/138 lbs on the deep front squats before crashing into the pins. It wasn't pretty either as my upper body dipped forward quite a bit. Then moved into the good mornings off the pins, now starting them, as Vince suggested, straight off the pins instead of first unracking. Worked up to 5 @ 80 kg/177 lbs, which was still fairly light. Next up were…
OVERHEAD SQUATS! Never tried them before, but an article in the December 2004 issue of MILO by Rob Haan titled An Alternate King: Overhead Squats put them on my agenda. Much like the hands-free squats, they smelled like a worthy challenge with some core benefits:
Mike Stone also said that very few athletes can even hold a light bar or stick directly overhead and squat, which I have found to be true. The reason is that as you squat, the torso leans forward, and because the arms must remain straight overhead to prevent the bar from falling forward, the shoulders are placed at an extreme stretch. Thus, the overhead squat is testing hip, lower back, and shoulder flexibility all at the same time, and if you are lacking in any area, the bar will end up on the floor. [..] An additional benefit - and my primary motivation for including overhead squats in a training program is that they are a great builder of core strength. [..] Overhead squats work the abdominals in the same way they are worked when you are supporting or carrying a heavy weight.
Rob Haan: An Alternate King: Overhead Squats. MILO 12(3), December 2004: pp. 56.
I also got some valuable hints from Skinny Bastard:
Always "pull the bar apart"–helps with stability.

Point the elbows out to the sides.

It's OK to the let the bar go behind your head somewhat. For less flexible lifters, it's usually required.

The limiting factor in terms of flexibility is usually the hamstrings and shoulders.

Start with a broomstick. Don't expect to get depth. Just "find your balance" and go as low as possible without rounding your back. Move onto the bar and then use weight.
After all the dire warnings about impossible broomsticks and barbell-shaped heavy falling objects, working up to a successful deep set with miniscule plates felt like a major victory (TODAY'S VIDEO 3.4M). It did stretch my shoulders to the limit and I would not have dared going heavier for this very reason. I could also feel it in my upper back, which was forced into a limit arch. Torture tends to bring back memories and what I got was flashbacks of reading about Wendler's suggestion for arching the upper back, which "not only set the entire back into a perfect squatting position, but you also force the chest out"… all essential things to staying upright in a squat. Since the overhead squat, unlike the front squat, forces you into an erect squatting groove it would seem that it is a good teacher. Alas, it is soon time to see if Mikesell would still be willing to help me work on my form.
SQ/DL action, 1 December 2004
Front squats, deep with medium stance:
5 @ 40 kg/88 lbs
5 @ 50 kg/111 lbs
5 @ 62.5 kg/138 lbs
Good mornings, off pins set at navel height:
5 @ 40 kg/88 lbs
5 @ 50 kg/111 lbs
5 @ 60 kg/133 lbs
5 @ 70 kg/155 lbs
5 @ 80 kg/177 lbs
Overhead squat, deep: worked up to 5 @ 30 kg/66 lbs
Upper body cable turn:
20 @ 40 kg/88 lbs
20 @ 50 kg/111 lbs
Standing cable crunch:
8 @ 30 kg/66 lbs
8 @ 40 kg/88 lbs
2 @ 50 kg/111 lbs
Total training time: Under 60 min