Dumbells looking for groovy company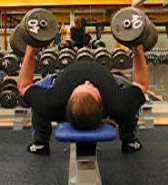 Monday has turned into traditional short sleep day. A nap before the workout helped some and loading Kalmah into the CD player helped some more. I was training very near closing time, so the number of potential complaints about the music where few. In fact, it turned out that one of the guys training was a die hard Kalmah and death metal fan. I had him scribble down some names of other Scandinavian bands in the genre that he considered to be melodic: Dark Tranquility, Godgory, Inflames and Vintersorg. All unfamiliar to me (no surprise here), will have to peruse their homepages for samples later on.
Consistent with my quest to improve benching power off the chest, I camped with the dumbells for my first exercise. My previous, and first, encounter with dumbell benches date back to Christmas Eve when I got 3 reps with 38 kg/84 lbs. Back then I noted some problems with my groove, a sentiment that was echoed today. The 36 kg/80 lbs set was especially bad, when the left dumbell drifted off course for the last rep leaving me to press it up with no power off the bottom. No big improvements; got one rep more with 36 kg/80 lbs than last time but my last set ended up at the same three reps with 38 kg/84 lbs. Tried the 40 kg/88 lbs dumbells, but couldn't get past my sticking point (picture at right). The first rep is always hell with heavy bells… hells bells?
Tried illegally wide benches as my chest/tri assistance movement. Worked up to a fairly easy fiver with 70 kg/155 lbs and then stayed at that weight for two more quick sets (perhaps 30-40 seconds rest in between). The wide grip didn't hurt my shoulders, but you can see from the video that the reps were a little wobbly.
ME Bench, 02 February 2004
Dumbell bench:
10 @ 16 kg/35 lbs
10 @ 20 kg/44 lbs
5 @ 24 kg/53 lbs
5 @ 28 kg/62 lbs
5 @ 32 kg/71 lbs
5 @ 34 kg/75 lbs
5 @ 36 kg/80 lbs
3 @ 38 kg/84 lbs
0 @ 40 kg/88 lbs
Assisted wide-grip pull-up: 6,6,5,4 @ 45 kg/99 lbs
Illegal wides: worked up to 5,5,3 @ 70 kg/155 lbs
2 supersets:
Standing cable curl: 12,10 @ 60 kg/133 lbs
Pressdown: 10,5 @ 80 kg/177 lbs
Total training time: 59 min (did assistance exercise really fast though)