Week 32: Bench shrugs and other fun things
Monday, 1 August 2005: ~SQ/DL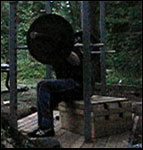 Ever the optimist, I had to try out my new squat box to the tune of Finnish metal band Teräsbetoni (eng. reinforced concrete). I find the heroic medieval battle lyrics to be a bit too much, but those who want something exotic might want to give the Metallitotuus album a whirl. Worked up to 90 kg/199 lbs and made the sensible decision to stop there. The back didn't twist up too badly, but I could definitively feel it. Wrapped up with two non-stop ab circuits on the stability ball.



Balance board standing
Box squat, 13″:
5 @ 50 kg/111 lbs
5 @ 60 kg/133 lbs
5 @ 70 kg/155 lbs
1 @ 80 kg/177 lbs
1 @ 90 kg/199 lbs
Swiss ball ab circuit (non-stop): 2 non-stop circuits of 20 reps each
crunch
left side bend
hyperextension
right side bend
Tuesday, 2 August 2005: Bench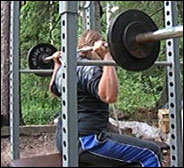 This was a great workout! For one thing, I was able to add another 2.5 kg/6 lbs on the behind-the-neck press for a clean 5x5 @ 55 kg/122 lbs. For another, it just plain felt great to be outdoors doing good stuff like reverse-grip benches, bench shrugs and lying rows. Since I finally caught the bench shrugs on tape (8.1MB), it is time to say a few words about this beast.
Bench shrugs involves assuming a normal benching position and then pushing the bar up by hunching the shoulders off the bench without bending the arms. This hits the pectoralis minor heavily. The first time I saw this exercise was on Blakley's XTM bench tape where he called them "pec minor pops". Blakley prescribes these for stabilizing the shoulder area to protect against the wear and tear of heavy lifting (as in shoulder pain). Recently, I was reminded of these when I read Kelso's shrug book where they go under the logical name of "bench shrugs". I am not including these based on any weakness analysis, but, like Blakley, Kelso assures his captivated reader that "this movement will [..] greatly strengthen the shoulder girdle for whatever purpose" (pp. 36). A strong shoulder girdle simply cannot be wrong.
Incidentally, 1960s bench legend Jim Williams, who sported an official 700 lbs/317 kg raw bench, was also a big fan of these "lying shrugs". Unlike Blakley and Kelso, he always did these with dumbells for maximum range of motion. The chapter on Williams in The Bench Press by Biasiotto and Arndt does not specifically mention lying shrugs, but they are found in the attached program for 10 sets of 10 (pp. 60-61). I have no idea of the source, but I also found Williams's own description of the movement cited on the Old School Strength Training board:
Now I will explain "my secret"-the lying shoulder shrug. After you are through with a light chest workout on the bench, find a pair of dumbbells that you can only get about 3 reps out of until failure, and as you increase in your shoulder strength, you will increase the dumbbell, even if you can't press them once!

While lying on the bench, have 2 friends hand you the dumbbells. After doing the three reps, pause for about three exhales. Slowly let the shoulders slide down almost like relaxing. As they reach the desired angle, stop them and immediately raise them (by lifting them) as high as you can. This should be done with the dumbbells partially being held and partially lying on the delts. This should be done in sets of 10 reps, if you can, or one should work up to it. Remember, you are not pushing the weight with your triceps, because the problem is not in the completion, but the start. You may say, "Jimmy, why not use the bar?" A bar is what pins you to begin with, and secondly…it wouldn't give you the necessary movement one needs in trying to shrug up and in. Some of the sensation that you may be able to relate to is like doing a complete dip, in which you let the body slide all the way down. Before your arms can come into play, you must first lift the body, than push with the arms. The same sensation happens at the end of he dip on a complete extension, when you cause the shoulders to raise the body.

Dips are not an easy answer because the shoulder movement in that excersise moves in a downward direction. But doing "my Shoulder Shrugs", the shoulders move in an upward movement. How many times can I use this workout? It should be done during a training period for at least three times a week in a five-day-a-week training cycle.

Should I lose imediately on my bench? You should stabilize until shoulders gradually begin to heal. Upon the end of your training cycle, the lying shrugs should be stopped in favor of complete healing and growth. Remember, the heavier you can handle, the better. Dumbbells you can press for 6 reps to 10 reps are no good.

Add these shrugs to the rest of my workouts and you are sure to come up with the best bench press at any meet. Remember, this does not mean that you stop doing other shoulder work, but that my Shoulder Shrugs should be added.
As we Northern Europeans like to say, a dear child has many names. And that's all I'm going to say about that.
Behind-the-neck press:
worked up to 5x5 @ 55 kg/122 lbs
Reverse-grip bench, feet in air:
8 @ 50 kg/111 lbs
8 @ 60 kg/133 lbs
5 @ 70 kg/155 lbs
5 @ 80 kg/177 lbs
Bench shrug:
10 @ 60 kg/133 lbs
10 @ 70 kg/155 lbs
10 @ 80 kg/177 lbs
10,7 @ 90 kg/199 lbs
Lying rows, reverse-grip:
8 @ 60 kg/133 lbs
3x8 @ 70 kg/155 lbs
Sunday, 7 August 2005: Bench
After the easy 105 kg/232 lbs decline, I figured the same on the vanilla bench would be child's play. It wasn't, but a nasty slip of the left foot on the wooden floor wetted by rain made sure I would never know. One word: rubber mat. Decided to get my feet out of harm's way by raising them towards the sky. Got a very easy 90 kg/199 lbs on the reverse-grip bench with feet in the air, but for some ungroovy reason 95 kg/210 lbs was a total flop. Lying L-flyes.
If you didn't catch it already, here's this week's video summary (8.1MB). A tall order at 4:28, this will take some patience in today's internet/remote control world. Evil.
Bench:
6 @ 42.5 kg/94 lbs
5 @ 52.5 kg/116 lbs
5 @ 65 kg/144 lbs
2 @ 75 kg/166 lbs
1 @ 85 kg/188 lbs
1 @ 95 kg/210 lbs
0 @ 105 kg/232 lbs
Reverse-grip bench, feet in air:
5 @ 60 kg/133 lbs
1 @ 70 kg/155 lbs
1 @ 80 kg/177 lbs
1 @ 90 kg/199 lbs
0 @ 95 kg/210 lbs
Lying L-flyes:
6 @ 10 kg/22 lbs