Horse liniment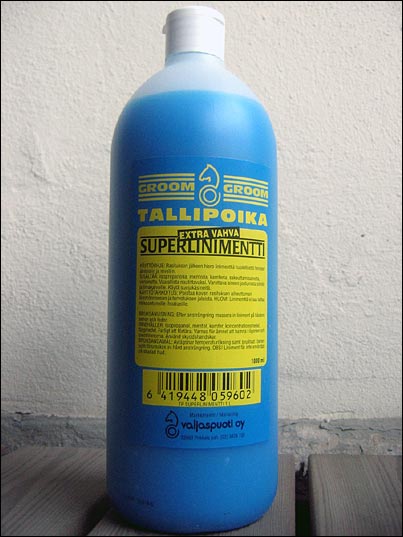 Your vitamins not keeping the colds at bay? You might want to try pills intended for elephants. Hair not shiny enough after your shower? Camel shampoo is probably the answer. Don't worry, the stuff intended for humans is obviously not potent enough for you. When I first heard that horse liniments, usually of
the warming variety applied pre-workout
, are a mainstay at Westside Barbell, I shrugged it off as yet another practice reserved for those willing to excel at all cost, as another example of
the steroid mentality
. Yet, now I have a huge bottle of the Tallipoika (Stable boy) brand extra strong cold Superliniment intended to be
"carefully rubbed on the tendons and joints of the horse after exertion"
.
It all began when I found a thread over at Westsidebar discussing this very topic. The general party line was that normal cold liniments do not penetrate much deeper than the skin, but opinions diverged on whether the equestrian variety went much deeper to be effective. Apparently, some physical therapists recommend horse liniments precisely for this reasons, while others feel only ice delivers. Sanna also recalled that she had heard about the use of horse liniments during her massage therapy studies. Comparing the horse liniment with Ice Power and Cool Power (both common cold liniments sold here in Finland), it would appear that the active ingredients in cold liniments are some form of alcohol (isopropanol, ethanol or denatured alcohol), menthol, and possibly camphor (the horse liniment) or eucalyptus oil (Ice Power). The rest are standard cosmetic ingredients that gives the liniment its ice blue color or gel-like consistency. The horse liniment is much more runny than Ice Power, probably because it is easier to smear quickly over a large horse that way, and lacks glycerin or its equivalents.
Let me put it this way: the ingredient list (isopropanol, menthol, camphor, thickening agent and food colors) of the horse liniment I bought reveals no super potent ingredient not found in the standard cold liniments sold in pharmacies and sports departments, unless that would be camphor… If the horse liniment is more effective it is because it has higher concentrations of active ingredients than the human intended brands. The major reason, besides the possibility that it is indeed a tad more potent, to mess around with horse liniments would appear to be price. I paid 9 euros for a liter of horse liniment from the equestrian section of a local supermarket whereas the liter price of Ice Power is 50 euros if bought in the biggest container. Think about that for a second. Thomas Deebel pretty much summed it up when he was asked why EliteFTS only sell veterinary liniments:
The vet products are actually cheaper for you to purchase. The liniments I have to sell in my office are actually about the same, but cost 4X as much money.
There you have it. Sorry for dissolving the mystique surrounding the powerlifter as a mighty horse.