Week 23: Double take on the deadlift
Wednesday, 1 June 2005: Coan-Phillipi deadlift, week 9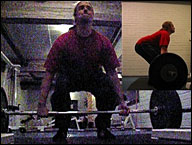 Up to 135 kg/298 lbs. Actually, the program would have had me do 137.5 kg/304 lbs, but I eased out the slope a bit from the prescribed 2 @ 125 kg/276 lbs, 2 @ 130 kg/287 lbs, 137.5/304 lbs, 140 kg/309 lbs to 2 @ 125, 2 @ 130, 135, 140 since I found a 7.5 kg/17 lbs increase between weeks 7 and 8 a bit too much. Not a major change, but makes things appear a bit more friendly coming back from a serious back injury.
Måns was on hand with his new digital camera and I had mine, so for the first time I present thee with two simultaneous angles of my dead (1.8M). Perhaps things looked a tiny bit better than last week (God knows I tried hard), but still nowhere near good. Up it came though, 140 kg/309 lbs next!
Deadlift (96%): worked up to 135 kg/298 lbs
Speed deadlift (70%): 2x3 @ 97.5 kg/215 lbs
Power shrugs (75% of current): 2x5 @ 97.5 kg/215 lbs
Stiff-leg deadlifts: 2x5 @ 80 kg/177 lbs
Worked up to a single on the bench with 95 kg/210 lbs playing with an extreme arch and feet tucked in under the bench. Not much fun, but at least I got a little bit of bench work ingested into these hectic times.
Total training time: 45 min (?)