Week 27: Hack, hack, hack
Monday, 27 June 2005: Bench
Quick and light as this workout might have been, it caused major soreness. Soreness = BIG no-no according to the Westside core litterature I'm wading through. Will elaborate on this later when I start organizing my reading notes. As a side note, this was the first time I ever did plate raises (front raises with a plate held by both hands). Delts, delts…
JM press: worked up to 4x10 @ 4o kg/88 lbs
Plate raise: worked up to 2x10 @ 20 kg/44 lbs
Standing barbell curl: 3x10 @ 30 kg/66 lbs
Thursday, 30 June 2005: Squat/dead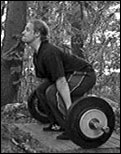 Still a rackless sucker, I had to come up with something else to do off the floor. Perhaps it was because it is one of Ano's favorites, because Louie Simmons says it is great for deadlift starting strength, or because I told Scott way back that "I'd try them Wednesday". Be that as it may, figured Hack Deadlifts (aka Hack Squats, aka Hack Squat Deadlifts, aka Behind the Back Deadlifts) would be both fun and instructive to try for the first time. Because the weight is further behind than on the conventional deadlift, I figured this might just be a helpful exercise for learning to lean less forward. This turned out to be partially true, but as the last couple of sets prove (VIDEO 3.1M), it is indeed possible to lean a bit on these as well… first time, first PR at 130 kg/287 lbs. Another keeper for sure.
Hack deadlift (aka Hack squat):
5 @ 60 kg/133 lbs
5 @ 70 kg/155 lbs
5 @ 80 kg/177 lbs
5 @ 90 kg/199 lbs
5 @ 100 kg/221 lbs
2x1 @ 110 kg/243 lbs
1 @ 120 kg/265 lbs
1 @ 130 kg/287 lbs
2x0 @ 135 kg/298 lbs
Straight-legged sit-up on bench:
20 @ bodyweight
7,5 @ 5 kg/11 lbs
Arm and leg extension kneeling on stability ball: 12
Saturday, 2 July: Bench
Upped the weight on the behind-the-neck presses. 5x5 @ 50 kg/111 lbs started being tight, but I got it.
Behind-the-neck press: worked up to 5x5 @ 50 kg/111 lbs
Close-grip bench with feet in the air: worked up to 3x5 @ 70 kg/155 lbs
Lying L-flye: 2x15 @ 6 kg/13 lbs
Bench shrug: 2x10 @ 70 kg/155 lbs