Week 43, part II: October outdoor lifting
Anticipation ran high as Måns and yours truly zipped along on the train destined for the summer cottage. We had both managed to get Friday off work and were looking forward to two full days of outdoor activities and… training. Among our sparse luggage was a heavy-duty rubber mat designed to cover any ice or snow that might be found in the rack. Helsinki was still void of snow, but at this time of the year the conditions 400 km/250 miles up north were hard to predict. Here's the full story brought to you by your very own household guy under the bar.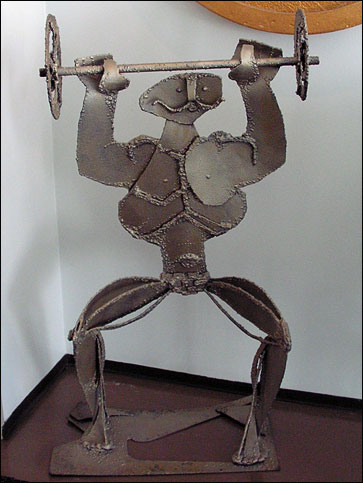 Let's rewind the story a bit, shall we? Earlier in the day, Rufus and I joined Måns to the veteran of fitness stores in Helsinki. In operation for more than 35 years, Wrange carries a hybrid mix of modern fitness goods and old school fitness buff stuff. We were actually surprised to find state-of-the-art protein tablets on the shelves. I use to choke them down with water by the handful - at 0.8g protein each you do the math for 40 grams of protein - long before whey protein came around.
Gently shaking myself out of bodybuilding nostalgia, let me tell you that the real cause of our visit was one slippery problem. Having been greeted by one skinny yet surprisingly muscular barbell hosting gent at the entrance, I dashed in to order one of their kuntolaitematto, or gym mats in a more international vernacular. Sold off a 1.25m/49″ roll, I figured a 1.9m/75″ long piece worth 104.5 euros would be just enough to cover the base of the rack while leaving a couple of flaps to use under the bar if needed. With a thickness of 8mm/0.3″, this mat was advertised as being very resilient and non-slippery even when wet. This is basically the kind of mat you find in freeweight areas or under machines in many gyms. Gracious as always, Måns promised to bring it to the train station as he was arriving by car. He ended up getting caught in the traffic and had to make a serious dash for it with the 16 kg/35 lbs mat jumping over one shoulder and the gym bag swaying off the other. One funny sight, but he made the train. Thanks, dude!
[photo courtesy of Måns]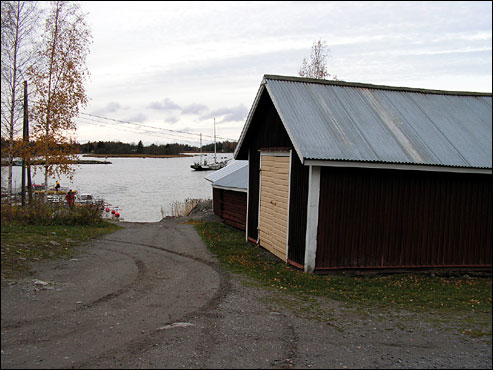 Arriving at the harbor for the boat ride out to the island, the ground was bare but the temperature was hanging with the freezing point. This photo was actually taken the next day, but I bet it didn't look much different when we arrived… except for the fact that it was pitch dark…
[photo courtesy of Måns]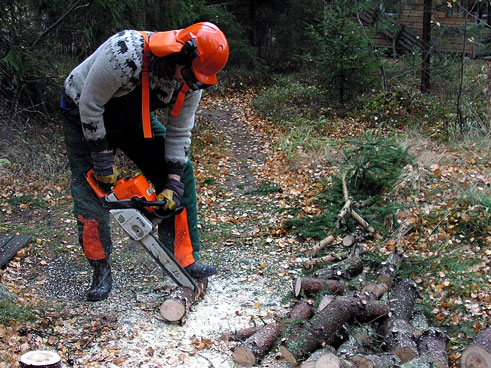 Waking up Saturday morning, late by my standard, early by Måns's, we had breakfast and leaped out to assist dad in preparing the place for winter. After a lot of carrying this and covering that, we took on the mount of unchopped wood still loitering about the shed. A few smaller trees also hit ground zero. Here's me doing some small-scale chainsaw massacring in my favorite woolen sweater; knit by my mom, it features yaks across the chest and sheep along the waistline… a nomad enthusiast's dream.
[photo courtesy of Måns]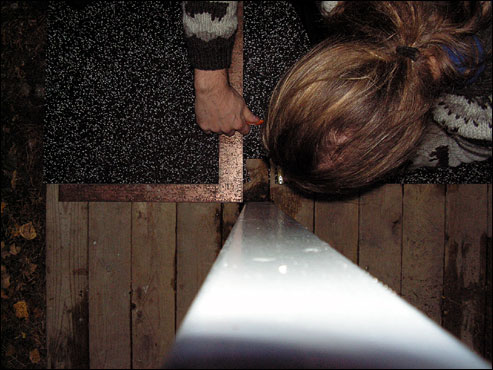 In the late afternoon, we decided it was time to rev up to the first workout of the weekend. First on the agenda was the cutting of the mat to fit the rack. I cut jacks in it for the rack uprights to allow it to extend out further sideways (think sumo). And no, I am not going bald, hair is just a mess…
[photo courtesy of Måns]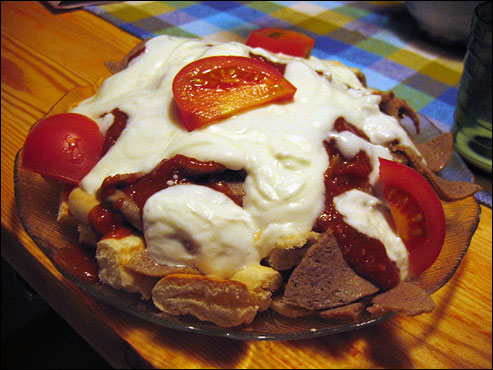 Time had sneaked up on us and we were too hungry to hoist even the smallest of iron plates. Food break! My perverse fascination with sushi should be well-known by now, but kebab is not far behind. We had stocked up with a load of kebab meat and pita bread. I quickly whipped together my standard kebab sauce and poured youghurt over the small mound. After finishing off one serving (above) each, we were now too full to train. We dragged ourselves out for some more woodchopping to let things settle a bit. Not what I'd ordinarily have as a preworkout meal, but this was no ordinary excursion.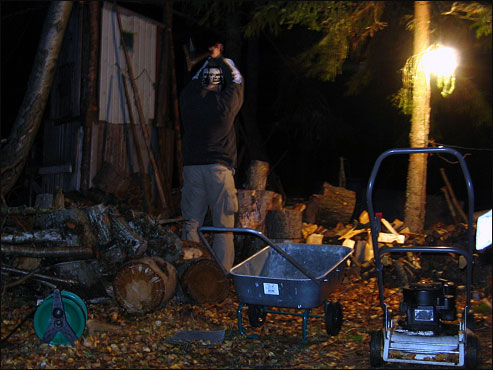 By this time, darkness had descended on the island. A light bulb at the end of an extension cord did the trick. This is Måns popping away with the axe. To the left is my old two-story fortress built around three trees… once a stronghold with the largest arsenal of wooden swords known to man. But I digress… ah, memory lane.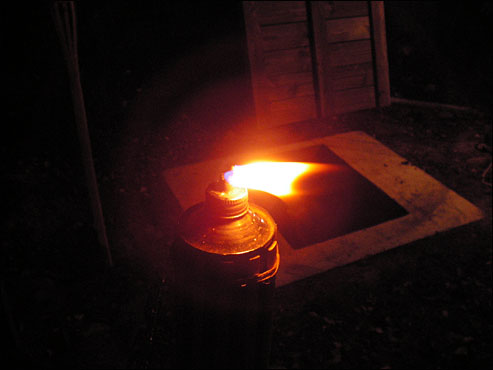 At 10pm we were, digestically speaking, ready to rumble. A few torches from the End of Summer festival and two electrical lights lit up Toffe's Gym, now transformed into a dreamy landscape of warm light and dark shadows. The music coming out of the small speakers attached to my iPod was nothing but a faint backdrop drowning in the cold breeze. The temperature was barely above freezing at 2°C/36°F. Quite refreshingly pleasant actually. This is the uncovered weight pit illuminated by a torch (duh).
[photo courtesy of Måns]
With the mat in place, the rack was ready for action.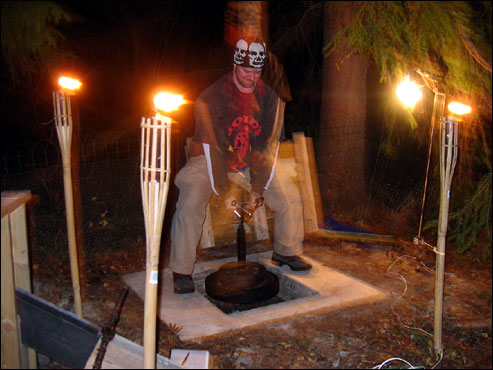 Måns embarked on a light weight pit workout consisting of handle squats and handle deadlifts while I quickly hammered together some old boards for a makeshift three-board, some triceps extensions and face pulls with two minibands. It was way cool (that's apt) to train in this setting, but my muscles didn't agree as a double 100 kg/221 lbs on the three board, with feet on the bench to protect my volatile back, was hard enough. My form was way off, but who cares… Here's the video (6MB), I promise it's a tad different than the ordinary fare…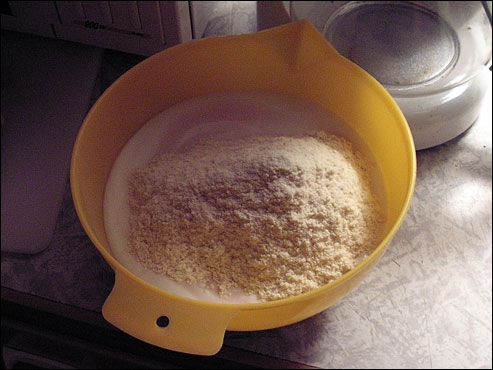 It was after midnight when we finished. The workout is not one either of us will forget in the first place and I can safely say that it has been firmly added to the ever-growing list of nostalgia. Instead of the normal post-workout shakes, we had a liberal amount of protein powder mixed in with yoghurt before departing for Dreamland. It had been a full day.
[photo courtesy of Måns]

The next day, Sunday, it was time to wish Toffe's a nice winter. We did entertain thoughts of training, but the temperature dropped rapidly below freezing and we even had some snow. Click on the image to see a larger panorama.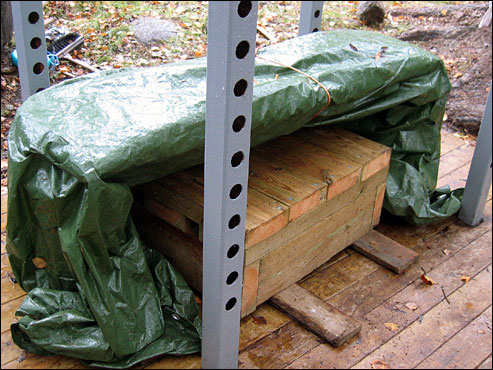 We covered the bench and put the squat box underneath it inside the rack… the mat got to spend its first winter indoors.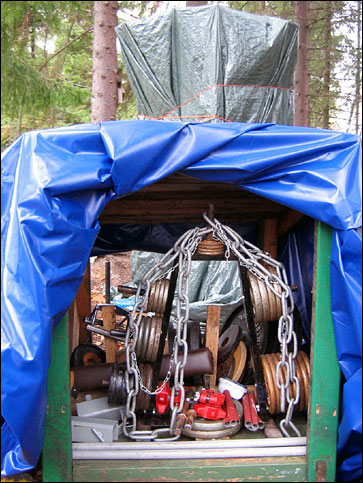 A last look at the goodies before covering the weight shed with a filthy expensive 99 euro tarpaulin made of the same thick PVC used for covering trucks. Note the covered rack in the background. Heavy snow fall now welcome.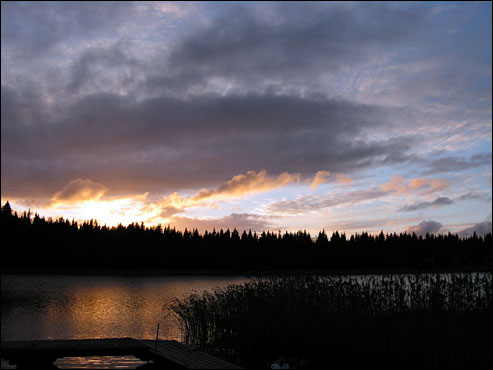 The sun was setting beautifully as we hopped in the boat for the ride home, this time in dad's car. Until next year!
[photo courtesy of Måns]
A BIG thanks to Måns for all the help during the weekend and for allowing me to use his photos!