Turning theory into practice - 102.5 kg!!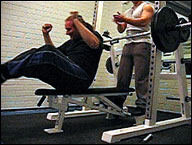 The curse has been lifted!
I now understand precisely what Simmons means by "standing up on the shoulders". The arch might not seem too severe, but since the butt is now only lightly touching the bench I only have two points of stable contact: feet on the ground and traps/neck on the bench. Getting into the new position was easy after a few practice swings, but once there I was a blowfish out of water.
Slowly worked up in weight, beginning with several sets with an empty bar, while keeping toes in the air to make sure I was only driving from the heels. I felt like I had zero explosiveness and missed my old groove more than a bit, but eventually found myself at 95 kg/210 lbs. Since it went up without too much effort, I figured I could just as well follow The way of the Fool and max out despite feeling like a monkey straddling a canyon.
Went up in 2.5 kg/5.5 lbs increments. A couple of sets later I was faced with the menacing 100 kg/221 lbs. The bar path was horrible, but quite easily muscled it to lockout. Continued on to a strenuous rep at 102.5 kg/227 lbs and then failed at 105 kg/232 (VIDEO 3MB). Whoa! Eye of the tiny Tiger!
In retrospect, I'd say that getting the weight further up on the back definitively makes the lift a bit easier. At the same time I am stronger than ever, which seems to tell me that the full implications of this little but significant change have yet to be realized. Give me some time to get comfortable in this position and re-calibrate my groove and you'll see the weights jump a bit further. If I wouldn't have done so many tiring sets before 105 kg/232 lbs I'm pretty sure at least that would have made it to the top. Tempting as it would be to switch back to Westside with all its max attempts, I will forge ahead with Blakley for the time being. If I keep the momentum going I'll soon be repping with my former max. That would serve it right!
ME Bench, 1 November 2004
Technique training working up to 90 kg/199 lbs with toes in the air
Singles:
1 @ 95 kg/210 lbs
1 @ 97.5 kg/216 lbs
1 @ 100 kg/221 lbs PR!
1 @ 102.5 kg/227 lbs PR!
0 @ 105 kg/232 lbs
A few sets of pulldowns and rope pulls
Total training time: 40 min