Three sets of two reps at ninety percent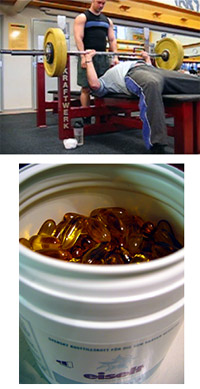 This was it. The heaviest regular bench session of the Prilepin bench program. Considering that it was only one percent heavier than week I, a whopping 1 kg/2.2 lbs difference, the reps were a little stiff. As usual, I got my act together by the third set, which was the best of them all (Video 1.5M). After that, it didn't take more than a single rep of JM presses to reveal that my triceps were still fairly sore around the elbow from Monday's close-grip bench session.
As Monday's bench session was very light (6x3 @ 73%), the soreness can probably be blamed on the Tate presses. The Prilepin bench program recommends that assistance work is not done balls to the walls, especially the tricep exercises, to help avoid local overtraining on the weekly schedule. As I have infused some extra rest into this program by basing it on the Three-day rotating Westside split, I have generally gone to failure on all assistance exercises. If it turns out that I am getting overtrained, at least I know why. No major worries yet though.
In three weeks Sanna and I are heading for Tuscany to sample the local wine in the Italian spring. This means that I won't quite be able to complete this cycle. Either I will just need to drop the last workout or then drop the whole last week and go for a new max before leaving. We will see how I feel. The trip is going to function as a much needed training break. After that I will probably go back to Westside benching again focusing on full range movements. Today I looked back at the power rack in a sudden flash of nostalgia: floor presses… hmmm…
Before heading home, I bought my second bottle of Eiselt's Omega-3 capsules (29.90 euro for 300 capsule of 1000 mg - cheap for being in Finland). I have been popping 4000 mg split up into 2 servings daily for some time now. I can highly recommend this brand; the fish oil tastes so fresh and smooth that I like to explode them in my mouth before swallowing… yummy!
Patrik Nyman's Prilepin Bench program, heavy bench week IV
Bench groove up:
10 @ 40 kg/88 lbs
5 @ 50 kg/111 lbs
3 @ 60 kg/133 lbs
2 @ 70 kg/155 lbs
1 @ 80 kg/177 lbs
Bench (3x2 @ 90%): 3x2 @ 88 kg/194 lbs
JM press (3x8): 8,8,7 @ 35 kg/77 lbs
T-bar row, chest supported: 4x10 @ 50 kg/111 lbs
Bradford press (3x12): 9,9,8 @ 40 kg/88 lbs
Rope pressdown: 9 @ 40 kg/88 lbs
Total training time: 80 min (out of which exactly 20 min went to the groove-up…)
Total training time: 75 min