The Amazing Adventures of CG Max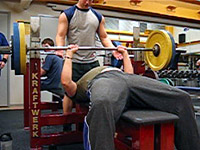 New month, new adventures. For the first time since my first wavering steps into the world of powerlifting last May, I slid my hands in close - index fingers at smooth - to find out if my close grip max is indeed in the neighborhood of my 1RM bench. After last week's less than stellar performance on the bench, I did indeed punch up 97.5 kg/215 lbs to lockout after a near failure at 100 kg/221 lbs (first time this trick ever worked!). Reattempted 100 kg/221 lbs some five minutes later, but by now the fatigue made that attempt an embarrassment for all. This means that I will embark on the new six-week benching program with the same max weight for the wide and close-grip benches. Weirdness does happen.
The several heavy attempts made this an awfully slow workout. As you can see and hear on the video clip (2.9M) there was quite a gathering at the gym around 7pm. I usually train around 3pm when the air is fresh and the music pristine. Quickly did some rows and an incline hammer curl/incline tate press superset and hit the shower content. Let this be the last time my max bench, with any grip, fails below 100 kg/221 lbs! So there.
ME Bench, 1 March 2003
Close-grip bench:
5 @ 40 kg/88 lbs
5 @ 50 kg/111 lbs
3 @ 60 kg/133 lbs
1 @ 70 kg/155 lbs
1 @ 80 kg/177 lbs
1 @ 90 kg/199 lbs
1 @ 95 kg/210 lbs
0 @ 100 kg/221 lbs
1 @ 97.5 kg/215 lbs
0 @ 100 kg/221 lbs
T-bar row, chest supported: 8,8,5 @ 60 kg/133 lbs, 15 @ 35 kg/77 lbs
2 supersets:
Incline hammer curl: 10,8 @ 16 kg/35 lbs
Incline tate press: 6,3 @ 16 kg/35 lbs
Total training time: 75 min