Some kind of monster flu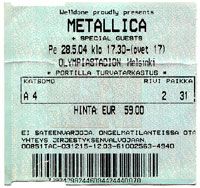 Down with a flu again, the kind where you feel like you have a temperature, only you don't. The kind you don't want to train with. The kind you get after sitting for 5½ hours listening to The Lostprophets, Slipknot and Metallica on an exceptionally chilly May evening in Helsinki.
The first two bands weren't worth another short training break. Not that they are not good bands but their music, especially Slipknot's act with three frantic drummers on stage, warped into a mess of sounds echoing over each other. Metallica was another story. Their powerful riffs and Hetfield's strong vocals sounded great even in the unmerciful acoustic environment provided by the Olympic Stadium. After seeing them pound away at Master of Puppets my appreciation for their skill level went through the roof. Having 50,000 guys and girls in black around you, one percent of Finland's population, go wild also helps. Although my hair style might lead you to believe otherwise, I am not much of a headbanger. Too bad, it would have kept me warmer than the limited stomping and twitching I did.