Week 13: Coan/Phillipi deadlift routine on the road
Wednesday, 30 March 2005: Coan/Phillipi deadlift, week 1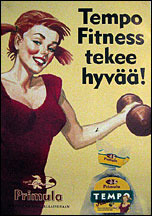 Seven weeks after the big bang, I am quite content with being able to train twice a week. Time is now a scarce commodity and, besides, I'm not precisely Duracell Bunny (or Energizer Bunny for you American folks) incarnated anyway. Nevertheless, it is time to resume some direction in training even if it is full steam ahead in the heretical direction. You see, I am going to deadlift big time.
Sixteen months after the big hiccup I have no problems with maxing out on the box squat, but I do have some post-injury fears to conquer on the deadlift. Back injuries are notorious for leaving many patients scared of reinjury to the point that they keep protecting their back even when healed. Good idea or not, I'm going to fight fire with fire and bury myself in the deadlift for the next eleven weeks. I hope to come out the other end with re-established confidence and a bit more iron on the bar so that I can slowly start to work my way past previous PRs. I've settled on the Coan/Phillipi deadlift program that has a nice mix of various intensity levels, speed pulls and a good array of time proven assistance exercises. With an estimated whoppin' 1RM of 130 kg/287 lbs at the moment, I'm setting my target at 140 kg/309 lbs. Did a script for the routine, here's how it looks for me (kilograms, pounds).
I had to squeeze the inaugural workout of the new routine in between teaching and a parents's meeting. Nearly didn't make it (hey, I can shower in 30 seconds!). I was thankful the routine calls for doing the accessories in circuit fashion… Started with very conservative weight choices to ease into the greatly increased volume, but will be raising them progressively over the next couple of workouts.
Deadlift (75%): worked up to 2 @ 105 kg
Speed deadlift (60%): 8x3 @ 85 kg (90 sec rest b/w sets)
3 circuits (rest 90sec between exercises, 2-3 minutes between circuits):
Stiff-leg deadlift: 8 @ 60 kg/133 lbs
Bent over row: 8 @ 50 kg/111 lbs
Underhand (reverse) grip lat pulldown: 8 @ 85 kg/188 lbs
Arched back good morning off pins: 8 @ 60 kg/133 lbs
Total training time: 47 min
Sunday, 2 April 2005: Bench
Unlike the deadlift, I have no program here yet. I am still waiting for Sebastian Burns's final assessment of my bench and am starting to think that my mail has been zapped by the evil Yahoo spamfilter. I could continue with the recent single day bench approach which I liked, but on the other hand I have been thinking about selecting a few full range movements (perhaps wide-grip bench, decline bench, close-grip bench and dumbell bench) and rotate those back-to-back with every other week being a max effort and the rest a 3-5RM or perhaps 5x5. I'd combine this with a floor press cycle and suitable accessory work. That said, Burns will want me to do boards no doubt. Did some paused close-grip benches followed by dumbell benches today. Wrapped up with some cuff and bodybuilding work (just for fun of course). Also snapped a picture of a poster ad for Tempo Fitness rye bread on my way out of the neighborhood gym. Rye bread is a huge thing here in Finland so there's room even for the fitness kind…
Close-grip bench, paused:
10 @ 40 kg/88 lbs
5 @ 50 kg/111 lbs
5 @ 60 kg/133 lbs
3 @ 70 kg/155 lbs
3 @ 80 kg/177 lbs
2 @ 90 kg/199 lbs
Dumbell bench:
5 @ 27.5 kg/61 lbs
5 @ 32.5 kg/72 lbs
5 @ 37.5 kg/83 lbs
2 @ 40 kg/88 lbs
2 supersets:
Standing rope pull: 8, 5 @ 45 kg/99 lbs
Seated preacher curl: 7,6 @ 32.5 kg/72 lbs
Cable crossovers (CBCPs): 7 @ 35 kg/77 lbs
Total training time: 38 min