Metal Gym membership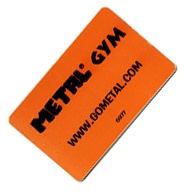 Took a month off following the latest back incident. I had to recharge and, quite frankly, I knew it would start to clear up even without serious rehab. I have had plans to start training at Finland's powerlifting Mecca, Metal Gym, for some time now. For one thing, we have started discussing purchasing our own house in the countryside and I want to have had the experience of training in a real powerlifting gym under my belt in case I will be confined to a second home gym out there somewhere. Of more urgent importance is of course the need to deal with my back problems. The opportunity to use a *real* reverse hyper every workout is starting to sound much more important than the fact that I neither live nor work in close proximity to the gym. A GHR, heavy dumbells, chains, specialty bars, monolifts and the like are of course icing on the cake.
In order for me to catch as much of Rufus's waking hours as possible, Måns and I have agreed to train mainly between 22pm and midnight for now. Said and done. Today we headed over to Metal Gym to grab the 10 euros magnetic key card that will enable us to train in the night shift (the counter is manned until 7pm weekdays, but the gym is open until midnight for card holders). Either Cartman, the strong Metal counter guy, has a good face memory or then he has been reading my blog, because he immediately handed me the copy of The Kennelly method that I had lent to one of their lifters on my only previous visit to the gym in January (has a description of the gym). My card is now loaded with twenty visits for 88 euros. Powerlifting owls, you've got company.