Theracaning myself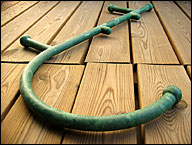 Started poking around in the adductor area with Sanna's Thera cane on Friday as the inner thigh pain did not diminish at all, even with copious amounts of muscle relaxants and pain killers. Found two v-e-r-y tender spots close to the groin in what must be the adductor longus and adductor brevis. The Trigger Point Therapy Workbook confirms that adductor longus trigger points tend to make the inner thigh feel drawn up causing restricted movement in all directions. The book also warns that local trigger points form easily when these muscles are overstretched, such as when taking inordinately long steps.
My amateur conjecture is that my tender spots developed on Monday as a result of walking around for most of the day in an unnatural walking style caused by the cramp in my lower back. This seems consistent with the fact that the pain developed gradually towards the end of the day. Aggressive trigger point massage of these areas do seem to help and standing now causes much less agony.
There is also a spot about two-thirds up on the lower leg (outer side of gastrocnemius) that is nagging me. Cane cane cane, cane away the pain… hope it works. I have no idea what will happen, but my mantra remains "Mobile by Monday". To that end, I've also begun doing light static stretching.