CKD diet week 1: Baselines and tentative goals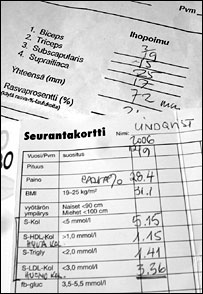 Time to get serious. As you all know, I will be lifting in the first ever virtual meet on Feb 9-11th, 2007. My lifts currently suck (pardon me), especially the bench which is just a teensie weensie bit, as in 0.5 kg/1 lbs, above my bodyweight of 104.5 kg/230 lbs. With that meet being scored by relative strength formula, I feel I am giving away too much by having all this extra lard with me on the platform. Some itsy bitsy leverage benefits aside, the spare tires don't give much of a hand under the bar. Furthermore, I wouldn't mind being liberated from my gut, however powerliftish it might be. Don't think I need the fat anymore to look like I lift weights. Case closed, it's gotta go!
The plan is as follows. I embarked on a cyclical ketogenic diet (CKD) 20 weeks out from the meet, on 17 September 2006 to be precise. I will be peaking on the same nine-week Extended Russian Routine I used before the one-man meet in August; this leaves me with eleven weeks of dieting at most, probably only ten as I need a week off before the meet. I could also do the first two weeks of the peaking cycle on the diet before switching to regular calories, but I'm not counting on that just yet. In practice, this means dieting up until the first week of December, then peaking until the first weekend of February and a week off before the meet.
To establish a baseline, I had my cholesterol checked at a local branch of the Finnish Heart Association before starting the diet. I was told I was a rare sight compared to the typical elderly patient with heart disease, but it was cheap and is the only place I know of which doesn't require seeing a doctor first. After waiting half an hour with Rufus, the results came out as a total fasting cholesterol of 5.15 mmol/l broken up into 3.36 mmol/l of LDL ("bad") cholesterol, 1.15 mmol/l of HDL ("good") cholesterol and 1.41 mmol/l of Triglycerides. If we put Anthony Colpo aside for a second in order to blindly stare at the Finnish recommendations, we can see that my total cholesterol (< 5 mmol/l recommended) and LDL (< 3 mmol/l) are slightly elevated while Triglycerides (< 2mmol/l) and HDL (> 1 mmol/l) are where they should be. "Getting rid of a few kilos should solve that easily", the nurse said. Last time I was on this diet, my total cholesterol increased, but the ratio of HDL to LDL improved markedly which is a good thing; going to be interesting to see how it goes this time around.
Finding someone proficient in wielding calipers to measure bodyfat was much harder. Finally, the front desk at Töölö Gym referred me to Kirsi Halme, a certified personal trainer from the Fitness Academy of Finland. I had to wait for a week due to her being on sick leave, but it was worth it. She promptly received me at 9am in a small room at the gym and with sure hands measured my biceps (19mm), triceps (15mm), subscapularis (25mm) and suprailiac (17mm) for a total of 72mm or 24.4% bodyfat (for fun, she also checked it electronically resulting in 23.5%). It took less than ten minutes and only put me back 7 euros. Seems like I am not only packing it in the form of spare tires, I also have quite a formidable coating on my back as evidenced by the subscapularis spot. And no, I didn't have Rufus's bodyfat checked.
Time for some math. 24.4% bodyfat at 104.5 kg/230 lbs means I carry 79 kg/174 lbs lean body mass (LBM) and 25.5 kg/56 lbs fat. The Body Mass Index (BMI) puts me at 31.2 and smacks an obesity stamp across my forehead. The absurdity of applying the BMI on weight trained individuals with their above average muscularity becomes obvious when we consider that in order to reach a "normal weight" of 20-25 BMI, I should weigh 67-84 kg/148-185 lbs at my height of 183 cm/6 feet. The lower end is 12 kg/26 lbs BELOW my lean body mass (-17% bodyfat?!) and the upper end would put me at 5.9% bodyfat, well below the recommended healthy range of 8-19%. If we consider 15-18% bodyfat to be normal, someone falling into this BMI bracket would be carrying 57-69 kg/126 lbs-152 lbs LBM. Given the average of 63 kg/139 lbs LBM, I would be carrying roughly 16 kg/35 lbs more muscle than the average normal weight man my height. Granted, this is a very sketchy picture at best, but it does give some indication of where I stand in the grand scheme of humanity.
If we presume eleven weeks of dieting and an average weekly fat loss of 0.7 kg/1.5 lbs per week, I would drop around 8 kg/17 lbs, i.e. down to 96.5 kg/213 lbs at 18% bodyfat assuming zero muscle mass loss (reality will bite). I could then easily shed about 2.5 kg/5.5 lbs more for the meet weigh-in by normal water weight manipulation, putting me at 95 kg/213 lbs for the meet when allowing for a realistic 1 kg/5 lbs weight gain during the peaking cycle. With a Wilks score of 236.4319 for my current PR total of 395 kg/869 lbs at 104.5 kg/230 lbs, I would need to get a total of about 347.5 kg/766 lbs for the same score at 95 kg/213 lbs. I have a hard time seeing my total plunge 47.5 kg/105 lbs, so, increasing relative strength would appear to be a given even when allowing for decreased weight on the bar. Furthermore, the peaking cycle is likely to restore at least some of my strength. As a point of reference, replicating my current total at 95 kg/230 lbs would amount to a Wilks score of 245.7011, a 9.2692 point gain. If I were to take the other route of adding strength instead of dropping weight, it would take a total of about 410 kg/904 lbs total at 104.5 kg/230 lbs to equal that, i.e. a 15 kg/33 lbs gain (say, an 145 kg/320 lbs squat, 110 kg/243 lbs bench and 155 kg/342 lbs deadlift). When push comes to shove, I would be happy with weighing in at no more than 96 kg/212 lbs and posting a Wilks score of at least 240, but the truth be told, in my dreams I am breaking the 400 kg/882 lbs RAW barrier. Long term, I want to start keeping my bodyfat between 15 and 18% so that I could easily be reasonable competitive at a meet, real or virtual, without having to diet extensively. Given my current LBM, this would mean a training weight of roughly 90-93 kg/198-205 lbs and competing at the upper end of the 90 kg/198 lbs weight class. Draconian as it may be, another diet is needed after the meet to put me down at 15% bodyfat. That's long-term planning for you.
More detail on how I am setting up my dieting training program, a modified version of the Pure Power Mag 16-week Squat Routine, will appear shortly in the luminous guise of the first weekly summary in a looong while. Hold on to your hats if you have 'em, a backblogging storm is brewing. If it wasn't obvious, this entry should have appeared in September, at the time of press I am already at week 7 of dieting. Sheesh.