One-man RAW meet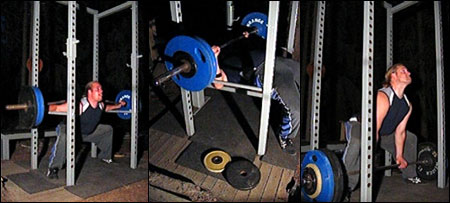 Decided to stage a simulated meet to test for final PRs after the Extended Russian Routine instead of splitting the lifts over several days. It seemed likely that the deadlift would take a hit from this being the last lift and me not being used to three lift events, but as the plan is to eventually compete in three lift raw meets I need to train for it and get some experience doing it. Klingons might do it otherwise, but last time I checked no earthling powerlifting federation mentions the possibility of taking a few days between attempts on the squat and deadlift. I can see the attraction of push-pull meets, but that's not were I'm heading.
The meet turned out to simulate one of those events that drags on for whatever technical or other reason leaving impatient and increasingly tired lifters in its wake. I had hoped to start at 9pm, but, due to driving my dad to the train and the time needed to stage the scene, it was 10:20pm before I had my squat opener on a stomach filled with an emergency shake consisting of a respectable pile of licorice ice cream mixed up with raspberry protein powder and milk. The plan was to primarily go for the secondary goals of a 135 kg/297 lbs squat, a 105 kg/231 lbs bench and a 155 kg/341 lbs deadlift, even at the risk of flunking the total due to missed attempts. Thus, I would open at 10 kilos/22 pounds below the goal, then go for it on the second with the third attempt reserved for an opportunity to retake a failed lift or go one better. It still seemed to me that the odds for easily bagging the squat were good thanks to the legs being fresh from a week of rest; if I could go on to 140 kg/308 lbs and get the goal weight on the bench and deadlift I would be hitting a nice and round 400 kg/880 lbs RAW total. Failing that, I could still save the day with a somewhat realistic 160 kg/352 lbs deadlift. Again, I would play it safer if this was a real meet, but for now it was all about thinking BIG and setting some nice final PRs.
The 125 kg/275 lbs squat opener was alarmingly stiff, but the reason was easy to find. Following Stinn's helpful comment, I tried hard to push the knees out on the ascent instead of letting them buckle in. This is a mechanically more advantegous squatting position as it activates the hips, but, having trained extensively with knees drifting in, I was just plain stronger doing things the way my body had gotten used to doing them. On the second PR attempt at 135 kg/297 lbs, I decided to save correcting the knees for the next training cycle and just focus on the task at hand. It went up, but it wasn't all that easy and would definitively have been red lighted in a real meet due to me losing the balance at the top. Still, 140 kg/308 lbs was just 5 kg/11 lbs away. Or so I thought, it was only when I moved on to the bench press that I realized I had misloaded the bar on both attempts by using 1.25 kg/2.75 lbs plates instead of 2.5 kg/5.5 lbs plates. This meant I was actually going up 7.5 kg/17 lbs in weight and had not yet set a new PR. Good thing I didn't realize this then. "Only three plates a side" I told myself and went on to do the strongest lift of them all. It might have been a bit higher than the previous two attempts, you be the judge on whether I got the depth or not (the picture above is from the bottom position). It was an amazing feeling to put an additional 7.5 kg/16.5 lbs on my squat on top of the 12.5 kg/27.5 lbs the nine weeks on the Russian Routine had given me. Better yet, it seemed I still had a bit more to give, but a three lift meet is a three lift meet. Not having failed a single squat in months, and knowing there is more, is likely to be worth much more than the relatively small gratification an additional 2.5 kg/6 lbs on an all-out lift could provide. Almost forgot, as you can see I used to the buffalo bar instead of the straight bar for the squats as I don't yet have a squat bar at Toffe's that allows for the wide grip I am currently accustomed to.
The bench started really well with the 95 kg/209 lbs opener flying up like I had way less weight on the bar (only this time there wasn't!). The pause was on the shorter side, but got good speed on the descent. Apparently, the 105 kg/231 lbs lift was nothing worry about. Perhaps so, but I got a cold reminder on how every lift is still a lift when I lost it by drifting the right hand further back than the left on the drive off the chest (the picture above shows the predicament clearly). And that's when the meet organizer did his first technical blunder by accidentally tipping the halogen light off the squat box that doubled as a combined camera/light stand. Midnight in early August, the rack descended into pitch black darkness. It took a whopping 45 minutes before I had replaced the broken bulb and satisfied my now screaming stomach with another emergency licorice ice cream shake, this time with maltodextrine instead of protein powder. The second attempt at 105 kg/231 lbs went much better, but couldn't quite get past the sticking point, not even after I desperately red lighted it by seeing if I could lock out by raising the family jewels up against the star lit sky. Ok, not what I had hoped for, but on to the deadlift.
I now needed a 165 kg/363 lbs deadlift to reach the 400 kg/880 lbs total; this seemed like a somewhat unlikely scenario, but then again there had been a lot of air when I did 150 kg/330 lbs last week. The late hour and lack of solid food under the hood was not working any magic, so worked up to the opener using 20 kg/44 lbs and 15 kg/33 lbs jumps instead of the customary 10 kg/22 lbs jumps. Besides, the legs and hips still felt nice and warm. Including the time needed to load the bar, I did the 145 kg/319 lbs opener only eleven minutes after the last bench set. The attempt was a bit funky as I lost my balance forward just as I was about to take off causing the bar to actually leave the ground twice - another clear case for a red light as the bar is generally not allowed to drop downwards at all after it has left the ground. That's when I broke the brittle halogen light for the second time. Really, it WAS an accident! Once I had the new bulb, scarily the last replacement, in place the camera gave up filming just as I reached down to retake the attempt. Let's just say that you didn't miss anything there.
Not getting a new PR on the deadlift was a bit of a disappointment knowing that the strength was there. The bench was no biggie, as the main goal had been to work up to my old max using a radically different technique - next cycle, I will shoot for a solid increase. The dream increase on the squat went a long way to cover for the minor setbacks on the other lifts, three plates is a milestone for me. The sum of it all is that the Extended Russian Routine put 20 kg/44 lbs on my squat and 10 kg/22 lbs on my deadlift while teaching me to bench in a new way - can't be but very satisfied! That's a 140 kg/308 lbs squat, a 102.5 kg/226 lbs bench and a 150 kg/330 lbs deadlift or a 392.5 kg/864 lbs RAW total. In that light, the meet could have gone a bit better with its 380 kg/836 lbs gym total at 103 kg/227 lbs (Wilks 228.6), but I learned a lot about weight selection and how it feels to do a three lift event. The whole thing was over at 2am; next time I do this, it is imperative that I speed things up quite a bit by taking better care of the pre-meet nutrition and not breaking every halogen I lay my hands on. I might also have to talk to the meet sponsors about being able to host next meet well before darkness descends… Headed straight into a nice 100°C sauna before taking a few plunges into the sea. Rest and recuperation ahead.
Here's the video (8.1M) which also happens to be the first vertically oriented video here at Under the Bar. Parenthetically, I also re-organized the PR matrix by separating the competition lifts from the accessory work and adding columns for tracking the gym totals.
Sunday, 6 August 2006: RAW test meet at Toffe's Gym
Squat:
Attempt 1: 122.5 kg/270 lbs (misloaded, should have been 125 kg/275 lbs)
Attempt 2: 132.5 kg/292 lbs (misloaded, should have been 135 kg/297 lbs)
Attempt 3: 140 kg/308 lbs (PR)
Bench:
Attempt 1: 95 kg/209 lbs
Attempt 2:
105 kg/231 lbs
Attempt 3:
105 kg/231 lbs
Deadlift (sumo):
Attempt 1: 145 kg/319 lbs (funky lift-off, good enough for a gym lift)
Attempt 2:
155 kg/341 lbs
Attempt 3:
155 kg/341 lbs
RAW Total: 380 kg/836 lbs total at 103 kg/227 lbs (Wilks 228.6)