Week 49: Please fasten your belt before sitting on the box
Tuesday, 29 November 2005: Accessory bench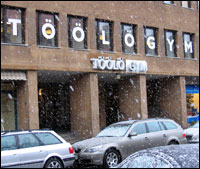 Sanna's brother, who has started bodybuilding, wanted me to give him some pointers on exercise form. Midnight training at Metal might not be everyones first choice of cuppa, hence we met at neutral ground at the largest gym in Helsinki, Töölö Gym. I moved up to 70 kg/155 lbs on the inclines… it was tough, but I did pull off 5x5. Sanna's brother did even better posting a huge gain on his bench PR.
Incline bench: worked up to 5x5 @ 70 kg/155 lbs
Seated dumbell press: 4,4,3 @ 26 kg/57 lbs
Flat dumbell flye:
8 @ 11 kg/24 lbs
2x8 @ 16 kg/35 lbs
Close-grip pulldown: 3x8 @ 60 kg/133 lbs
Supported T-bar shrug: 8 @ 45 kg/99 lbs
JM press:
8 @ 40 kg/88 lbs
5 @ 50 kg/111 lbs
Saturday, 2 December 2005: Squat day
Sigh. As sweet November came and went, yours truly also had to report back at work. The month off with Rufus was great though, the highlight probably being our trip to Sweden together with my brother and his fiancée. After a few days at work, it is clear that there will not be room for a lot of sleep in the weeks to come… Good workout though. After the heavy bag work I did some box squats in one of the monolifts off Ano's box, apparently a suitable 13″. Following Mike Hope's instructions, I put the belt on for the "heavier" sets. Having something to push my abs into made a world of difference, I suspect one of the main reasons I tend to fall forward in the squat might have to do with me squatting without tensing the midsection… Luckily, a belt is commonly the only allowed piece of equipment in RAW meets, so not abandoning ship… Got a slight cramp at 80 kg/177 lbs, but the reps felt good and powerful.
Heavy bag, 20 minutes
Box squat, 13″:
2x5 @ 40 kg/88 lbs
3 @ 50 kg/111 lbs
2 @ 70 kg/155 lbs (belt on)
2 @ 80 kg/177 lbs
Upper body cable turn: 2x20 @ 35 kg/77 lbs
Ab wheel, partials: 2x8
Reverse hyper (down to about 45° to maintain lordosis): 2x10 @ 10 kg/22 lbs
Seated calf raise:
10 @ 40 kg/88 lbs
10 @ 60 kg/133 lbs
3x10 @ 80 kg/177 lbs
Sunday, 3 December 2005: ME Bench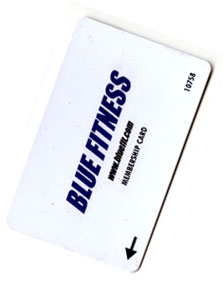 I've lamented over the increasingly common membership concept at health clubs (I hesitate to call them gyms for political reasons) before. The idea is simple: the price for a single session is raised to astronomical levels, or eliminated completely, in favor of some kind of day pass that gives you access to not only the gym but also the aerobics, spinning and whatnot yogic sessions. If you commit to becoming a member for a year or more, often after paying a substantial "membership fee" that can be upwards to 100 euros or even more, the prices drop sharply. The monthly fee is deducted from your bank account monthly. If you decide to quit before the year is up, they will charge you the difference between the yearly price and the "regular price" for the time you trained there. Simply put, they take your money hostage and execute it if you decide to quit. Furthermore, this whole scheme is usually hidden behind a whole lot of "special offers" and "tailored solutions" that a "sales representative" will take you through while waiving a lot of important looking documents. In a nutshell, this really sucks.
Take the new shiny health club that replaced the neighborhood gym just around the corner from our house. Some time ago, I marched in to inquire about prices and opening hours. Turned out they were open to 11pm, great for those days when I would not have time to journey all the way to Metal. Asked if I could look inside the gym and verified that they had what I'd need for some light accessory work. When I asked what the price for a single visit to the gym was, they told me there was no such thing. The closest thing was a day pass at 12 euros that, surprise surprise, included the aerobics too. Then came all the talk about membership. For once, I cut the lady short and explained that I lived nearby, generally trained at another gym, but would be interested to pop in maybe once or twice a month. I also made it quite clear that I wanted no aerobics and that 12 euros was a ridiculous amount to pay for an hour in the gym. As I was getting ready to leave, it was suggested that their sales representative might be able to come up with a tailor-made solution. I jotted down my e-mail and left. A few days later, yes, a few days, I got an e-mail from the sales rep that stated that "they generally only discuss their prices and operational model on location" and then went on to talk about "their membership". No mention of my particular problem. Never set foot in there again.
The whole "shiny club" scheme was again unravelled before my own very wallet today as I joined Sanna's brother for another session, this time at his gym. As was to be expected, the closest thing to a gym visit was the 12 euro daypass that entitled its happy bearer to all aerobics and all the three Blue Fitness gyms in Helsinki. As I did not show much interest in signing up for several months or a year, the skinny guy behind the counter told me he could give me a "special offer". For a mere 8 euros, I would get the magnetic card fee waived and one week of unlimited training at all three gyms. Oh, and they would also take my personal information and my photograph for the customer registration. In retrospect, I should probably just have declined the honor of being pulled into their customer database, but I paid up and got on with it. A pretty nice basic gym otherwise, no power rack or specialty gear of course, but they did allow me to use chalk. Most health spas don't.
As for the workout, got very close to putting up a new PR on the close-grip bench. Seems like I'm finally back to full strength after the unfortunate layoff.
Close-grip bench:
5 @ 40 kg/88 lbs
5 @ 50 kg/111 lbs
5 @ 60 kg/133 lbs
3 @ 70 kg/155 lbs
1 @ 80 kg/177 lbs
1 @ 90 kg/199 lbs
1 @ 100 kg/221 lbs
0 @ 102.5 kg/227 lbs
Speed bench: 9x3 @ 55 kg/122 lbs
Dumbell bench: 5x5 @ 32.5 kg/72 lbs
Parallel-grip pulldown: 3x8 @ 14th hole (70 kg/155 lbs?)
Cable L-flye in Free Motion machine: 2x8 @ 15 kg/33 lbs