Virtualmeet.net gym poster released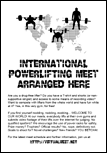 If you post this on your gym wall, I'm pretty sure eyes will roll around in sockets. An International Meet?! At our gym?!
The poster is available on the promote page at Virtualmeet.net. It is black and white, will print nicely on both Legal and A4 paper sizes and will not degrade when photocopied. Thanks to Theresa for bringing this whole thing up!