Virtualmeet.net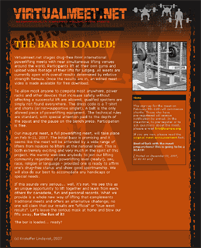 As a first step towards releasing the full beast and to boost troop morale, Virtualmeet.net has received a proper front page. Stay tuned, there's MUCH MORE to come!
As I do realize that the inaugural meet is approaching fast, I encourage anyone who feel a need to ask questions about the upcoming event to do so. The rules draft will go out to all of those who have pre-registered soonish.
Best of luck to all of those who are preparing for the meet!! Can't wait!