Week 5: Of fortified and demolished structures
Monday, 30 January 2006: Bench accessory
Got a flying start with 75 kg/166 lbs on the incline, but didn't quite get to the champagne. Can't complain about the way the incline is progressing… less than two months ago, I struggled to get 5x5 @ 70 kg/155 lbs.
Heavy bag, 10 minutes (mainly punching due to
hyperextended knee
)
Incline bench: worked up to 5,5,5,4,3 @ 75 kg/166 lbs
3 supersets:
Seated dumbell press: 5,4,2 @ 26 kg/58 lbs
Metal iso-lateral seated row: 3x6 @ 40 kg/88 lbs per side
Wide-grip pulldown: 8 @ 16th (80 kg/177 lbs?)
3 supersets:
Preacher curl: 4 @ 28 kg/62 lbs, 5 @ 33 kg/73 lbs, 7 @ 28 kg/62 lbs
Face pull: 3x8 @ doubled miniband
Wednesday, 1 February 2006: ME Squat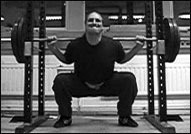 Hit 120 kg/265 lbs on the regular squat, a modest 20 kg/44 lbs PR. The depth wasn't quite as convincing as on the recent 125 kg/276 lbs cambered bar squat, but based on the video (3.5M) and the photo to the left it seems to be right around the mark. Any verdicts?
Increased strength and better back health are surely factors behind the recent jump in squat results, but I believe the use of a belt and a new approach to squatting technique should receive the real accolades. Before getting a belt to push the abs into, I didn't pay much attention to tightening the midsection and, as a result, squatted without tensing much anything. A year ago, I started using a belt for dynamic effort squatting, but haven't belted up for max effort work before Michael Hope suggested I do. The result is a whole new level of stability on both belted and non-belted squats. I have also abandoned the foolish project of trying to emulate equipped squatting while training raw. Sitting back with vertical shins throughout the lift just doesn't make much sense when the only support you're getting is that provided by the Mickey Mouse underwear. Allowing the knees to come forward a bit keeps me straighter under the bar and feels much more natural. This might have more than a little to do with the fact that I always squatted ass to the grass with a close stance before converting to powerlifting. My body knows how to squat if I allow it to. One of the most evident side-effects of these changes is that I no longer dip forward as heavily as I used to.
I am hoping that these changes will provide me with a good base for bumping up the weights over then next few months, back willing.
Squat:
6 @ 40 kg/88 lbs
5 @ 50 kg/111 lbs
3 @ 60 kg/133 lbs
2 @ 70 kg/155 lbs
1 @ 80 kg/177 lbs
1 @ 90 kg/199 lbs (belt on)
1 @ 100 kg/221 lbs
1 @ 110 kg/243 lbs
1 @ 120 kg/265 lbs
GHR, narrow:
2x6 @ 5 kg/11 lbs plate against forehead
15 @ bw
Saturday, 4 February 2006: ME Bench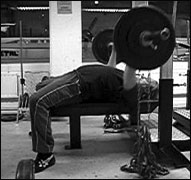 A flop. My biceps, primarily the left one, got really strained on the dumbell benches. I felt some strain already during last week's workout, but this time it was bad. My best guess is that the strain stems from the lowering of the dumbells to the floor, essentially an eccentric concentration curl with 41 kg/90 lbs, after each set. After a very poor and painful performance on the dumbell benches, I went ahead with the plan and loaded up 10 kg/22 lbs more on the speed bench with chains than last time. This, 60 kg/133 lbs, is closer to the generic 60% of max that is recommended for a raw intermediate bencher. Felt the biceps, increasingly also the right one, at the bottom of each rep. Felt like I wasn't able to fully open the throttle, but the set times were decent, even if a tad too slow, as gleaned from the video. Put sets seven through nine on this week's video summary (3.5M). As for the biceps pain? Rest, sauna, massage and an anti-inflammatory cream. Not the first time I get these kind of overuse symptoms.
Heavy bag (sluggish legs after the squat workout, took it easy)
Dumbell bench: worked up to a lousy 2,2,0 @ 41 kg/91 lbs (biceps pain)
Speed bench (wide, medium, narrow): 9x2 @ 60 kg/133 lbs + 20 kg/44 lbs chain
Set times:
set 1 (wide grip): 3.13 sec
set 2 (medium grip): 3.11 sec
set 3 (close grip): 3.14 sec
set 4 (wide grip): 3.12 sec
set 5 (medium grip): 3.14 sec
set 6 (close grip): 4.01 sec
set 7 (wide grip): 3.08 sec
set 8 (medium grip): 3.11 sec
set 9 (close grip): 3.13 sec
Parallel-grip pulldown: 3x8 @ 16th (80 kg/177 lbs?)
Seated cable L-flye: 2x10 @ 10 kg/22 lbs
Dumbell curl: 3x8 @ 18.5 kg/41 lbs