Week 24: Healing up, not slowing down
Tuesday, 13 June 2006: Extended Russian Routine, week 3, day 1 (heavy bench, light squat)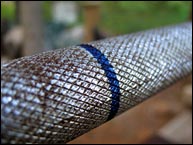 I've turned into a restoration nut after aquiring the first, but not surprising, overuse problems last week on the Russian routine. Lots of saunas alternating between heavy steams in the regular 80-90°C/176-194°F sauna with extended plunges in the admittedly fairly warm sea of 21°C/70°F followed by massage and generous amounts of anti-inflammatory creams, horse liniment and vitamin C (aka the everything but the kitchen sink approach). The left biceps pain had diminished a lot and I got through the heavy benching without too much pain nor strain. Couldn't feel any pain in the groin, so went for the squats, but as the preliminary groove up sets summoned a minor pain genie, I decided to let the light squats be. My goal on this program is to not miss a single heavy workout, but I will skimp on the light ones if needed for recovery. The program itself states that this is ok, given the demanding nature of it.
This being the first benching session at Toffe's this year, it finally dawned on me to do something I should have a long time ago. Since my generic bar doesn't have any markings (imagine that, a stealth bar) and the knurling is actually ever so slightly uneven, I drew them up myself with a permanent marker. Not as good as the real thing as I can't just feel my pinkies stroking the thin line etched into the steel (how kinky), but at least now my grip is precisely where I want it to be without any guesswork. Should have done this a decade ago when I first got the bar. Actually, should have gotten another bar in the first place. Come to think of it, I should have gone inte powerlifting already then. How futile is not human post-facto wisdom?
Bench: worked up to 6x5 @ 77.5 kg/171 lbs
Skipped the squats due to lingering groin pain
Thursday, 15 June 2006: Extended Russian Routine, week 3, day 2 (heavy deadlift)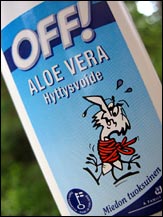 Had some light pain on the right side of the groin, but it was a huge improvement over last week. It no longer felt serious. My pulls went well and I left a few reps on the platform for later. Also did a few sets of light accessory work with a mini band, mostly L-flyes, pressdowns and pull-aparts.
On another note, the mosquitos have arrived en masse. Nothing repellent can't take care of, but they do swarm quite a bit, especially when doing the customary evening/night lifting. Come to think of it, Mosquito Gym would actually be a cool alternative to Toffe's Gym. In case someone hasn't made the connection yet, Toffe is a common nickname for Kristoffer in the Swedish speaking corners of the globe. In international communication, I prefer the easier to grasp Kris though. Hmmm… Mosquito Mass Murder Gym?
Sumo deadlift: worked up to 6x5 @ 112.5 kg/248 lbs
Brief accessory work with a mini band
Saturday, 17 June 2006: Extended Russian Routine, week 3, day 3 (heavy squat, light bench)
The groin pain was nearly gone and, praise the God of Iron, NO biceps pain at all. Aggressive massage and anti-inflammatory cream applied several times daily can do wonders. It felt really good to be able to do the light benching without soreness. The squatting was really tough today though, not so much because the reps got heavy as me running out of stamina. Took a longer break between the fourth and fifth set which helped some.
Squat, buffalo bar: worked up to 6x5 @ 100 kg/220 lbs
Bench: worked up to 6x2 @ 77.5 kg/171 lbs