2005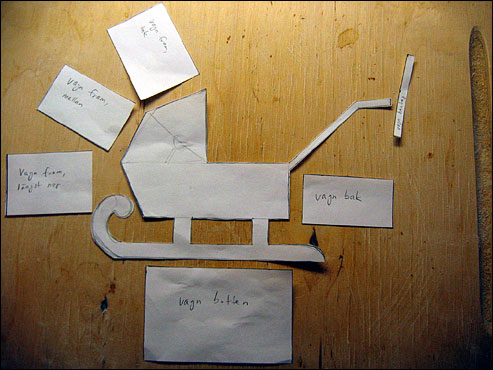 Barnvagnen på medar var lätt som en plätt, speciellt efter att Sanna polerade Toffes ritningar... Sidorna gjordes enkelt som hela stycken. Vi kom till och med ihåg att göra den andra biten spegelvänd för att få gräddytan på rätt sida. Fram- och bakbitarna var enkla rektanglar.
The pram was a no-brainer, at least after Sanna polished up Kris's sketchy blueprint. The sides where made in a single piece, we even remembered to make the second piece a mirror image to ensure an even result. The front and back pieces were just simple rectangles. Prams are easy to make, folks.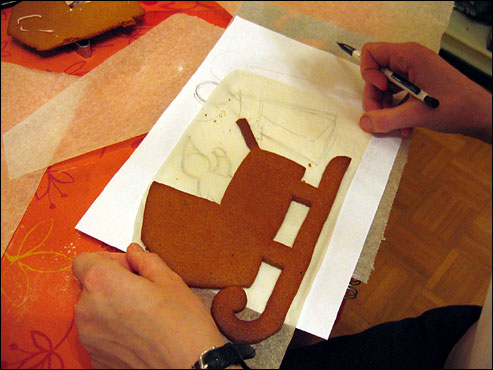 Sannas serietecknartalanger kom väl till pass. Notera att vi kortade av handtaget eftersom verkliga proportioner inte skulle ha blivit bra ur fotosynvinkel.
Sanna doing what a cartoonist does best. Note that we shortened the handle as doing real-life proportions wouldn't have made a good photo.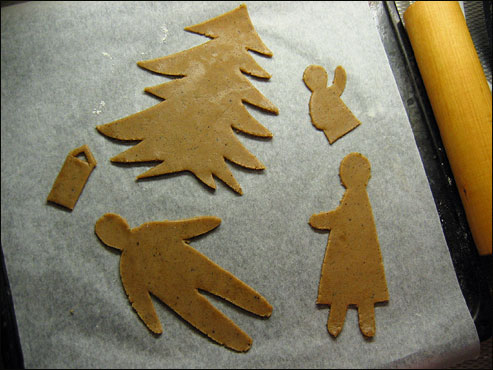 Familjemedlemmar och en gran redo för 225°C. Den på fri hand ritade granen var mycket roligare än en färdig pepparkaksform. De stora planerna för lyktan gick i stöpet (den blev sedermera stödpelare för en av granarna).
Family members and a spruce ready to hit 225°C/440°F. The freehand-drawn spruces really added a lot of liveliness to the end-product compared to using ready molds. We had big plans for the lantern, but alas...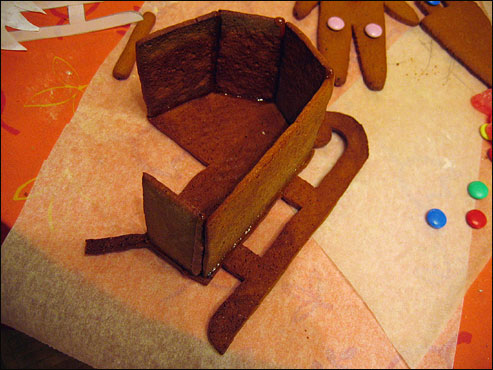 Allt väl, än så länge...
So far so good, so far...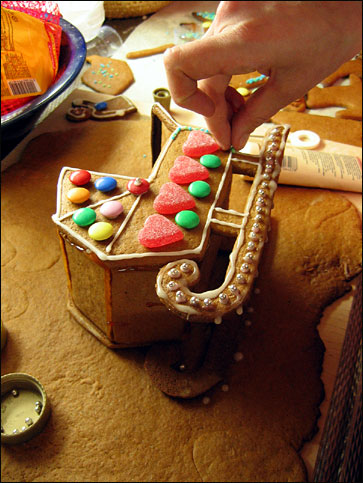 Till skillnad från tidigare år dekorerade vi alla delar innan de limmades på bottenplattan. Géléhjärtana var goda, men vi lyckades spara några för vagnen.
Unlike previous years, we decorated everything before glueing the pieces to the bottom piece. The jelly hearts were yummy, but we managed to leave some for the pram.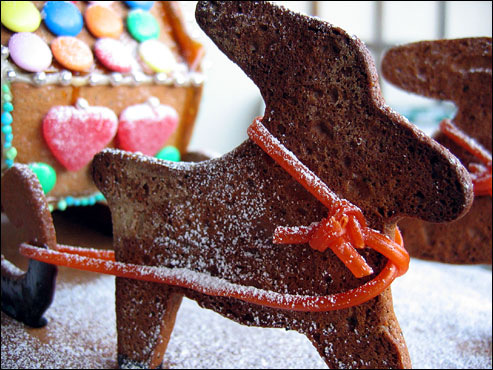 Malacos jordgubbssnören (vart tog hallonsnörena vägen?!) fick agera tyglar. Notera ej att ena meden reparerats efter en liten malör...
The strawberry-flavoured strings from Malaco made excellent reins. Nothing to see here, moving on. Well, ehem, I did manage to break one of the [skis/medar]. You can see the corrective action if you look closely. Good thing it was the one on the back.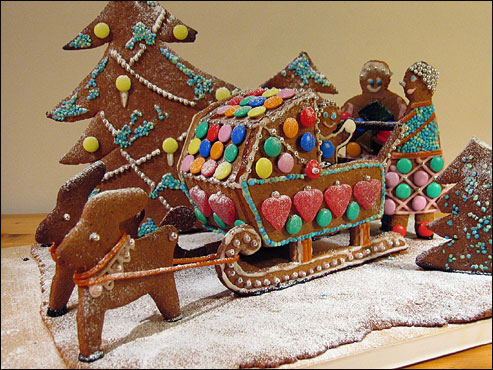 Tadaaaa!
All done.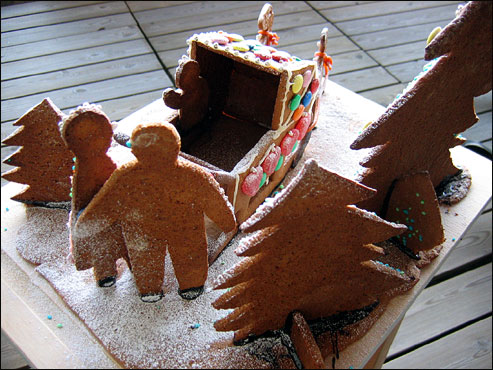 Den grymma verkligheten bakom kulisserna.
Director's cut, aka sneaking up from behind.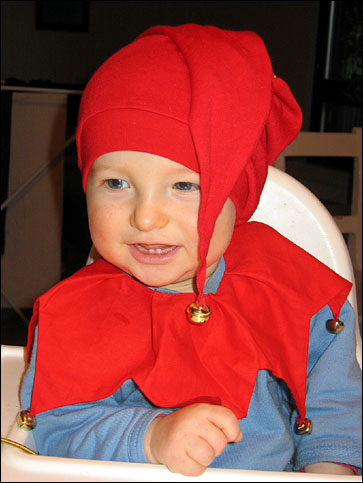 Försök själv plåta en unge som helst vill äta upp både kamera och luva. På denna bild har Rufus just spottat ut bjällran och visar sina små tänder. In i vagnen med honom!
Embarrassing number of shots notwithstanding, this picture of Rufus sitting in his chair was the clear winner to be teleported into the sled, cute teeth n'all. This was the first year I removed the background using the background eraser and history brush technique, by far easier than the tedious techniques inch-by-inch techniques I've used previously.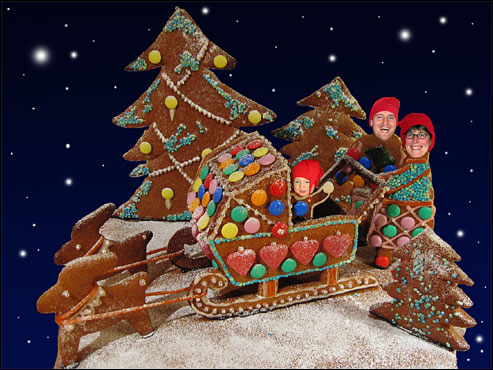 God Jul 2005!
Merry Christmas 2005!