Gingerbread project anno 2006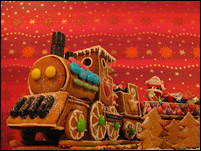 Last year's gingerbread train has been added to the collection. Having just finished this year's [as of yet secret] project and with Santa lurking around the corner, it was high time.
I may be a bit early, but Merry Christmas and a Happy New Year to everyone!!