Project Gingerbread House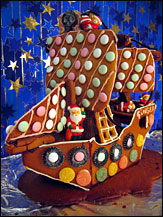 In 2002, we began a tradition of sending out photos of our gingerbread house as Christmas greetings. Every year, we design a new creation from scratch. The whole collection is now online in the family section complete with "the making of" action shots.
This pirate ship was the theme for 2004.
Happy New Year 2006 everybody!!