2002
År 2002 bodde vi ett år i Österbotten och flyttade då ihop i vår första gemensamma lägenhet (en stuga med röda knutar). I dessa tidiga ungdomsdagar hade vi varken digikamera eller någon tanke på att man kunde göra papperskopior på vår första gemensamma julhälsning (kortet svischade iväg per e-post). Huset vi gjorde är stilmässigt mycket likt det hus Toffes mamma brukar bygga: en villa med skorsten (vi skippade fönsterluckorna), ett gemytligt utedass, en julgran och en stege så att tomtarna kommer till att rengöra skorstenen från julgubbar som fastnat. Toffe kom varmt ihåg det år då familjens pepparkakshus flankerades av en pepparkaksjak och passade på att göra en Lie-Mumin som detta års kuriositet. Tyvärr brändes hans lie ganska illa i ugnen, så han vandrar kors och tvärs över pepparkaksjorden obeväpnad med ett varmt julleende inpräntat i sitt fårade ansikte.
In 2002, we moved into our first apartment together while staying for a year in Finnish Ostrobothnia. We didn't have a digital camera back then and this one was only sent out as an e-mail greeting. The house is very much in the style of the one Kris's mother usually makes: main house with chimney (we skipped the shutters though), a cosy little privy, a Christmas tree and a ladder leaning against the house for the elves to go up to clear the chimney of stuck elves. Fondly remembering the year Kris sneaked in a gingerbread yak into the project, this year featured a Reaper Moomin as the required oddity. Unfortunately, his scythe was badly burnt in the oven so he roams the ginger earth unarmed with his face lit up by a friendly Christmas smile.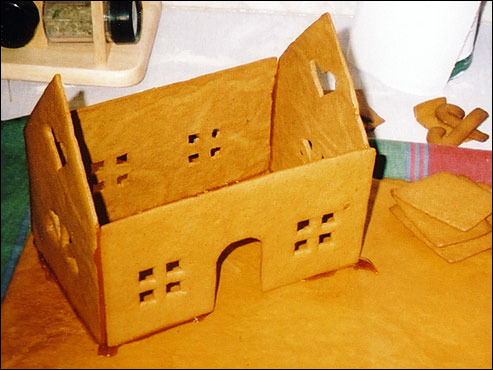 Taket nästa.
Waiting for the roof.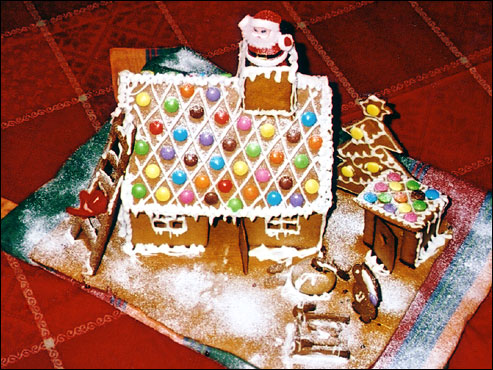 Det färdiga huset ur fågelperspektiv. Lie-Mumin står nere i högra hörnet flankerad av en huggkubbe och en vedsläde.
Bird's view of the finished house. Reaper Moomin stands in the lower right corner flanked by a chopping block and a sled for chopped wood.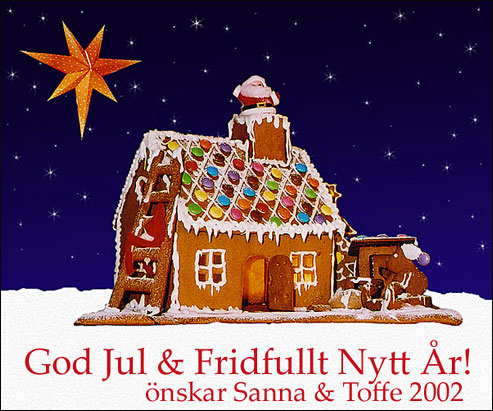 Den svenska versionen av det färdiga julkortet. Vi photoshoppade in vår adventsstjärna i bakgrunden.
The finished card in its Swedish rendition. Our advent star was photoshopped into the background.